The Regional Maritime University (RMU) has held an opening ceremony for the commencement of the Support for West Africa Integrated Maritime Strategy (SWAIMS) project aimed at equipping maritime professionals in maritime security, maritime environmental security, blue economy security, maritime crisis management and fisheries security governance.
This training programme, is a collaboration between RMU and the European Union (EU) to enhance the professional competences of Maritime Professionals with the goal of promoting the culture of intra and inter-agency communication, trans-national co-operation and information. The training which is being conducted at RMU, will strengthen regional cooperation and training on Integrated Maritime Strategy.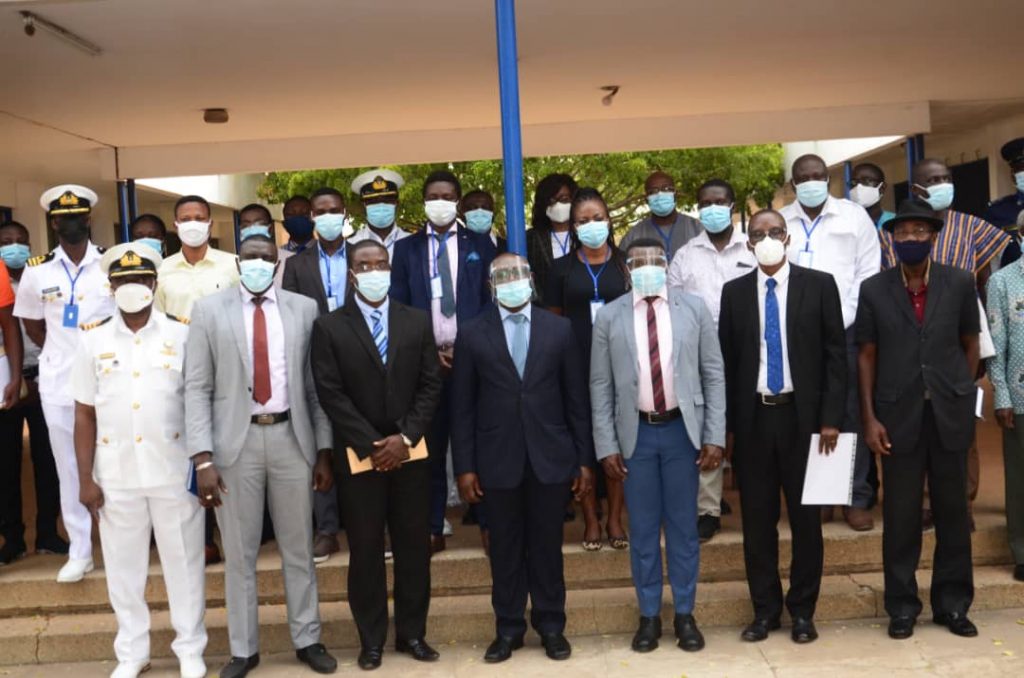 RMU management team and some participants of the programme.
Speaking at the opening ceremony, the Vice Chancellor of RMU, Professor Elvis Nyarko urged Government to provide resources to the Ghana Navy to ensure that they are well equipped to combat Maritime Crime. According to the VC, the over-exploitation of Marine resources, rapid degradation of the Maritime environment through pollution, coastal erosion and rising sea level have made it urgent for a coordinated government intervention.
Ing. Augustus Addy-Lamptey, coordinator for the programme, added that the training will serve its purpose of enhancing the skills of the participants. The Director of the ECOWAS Multinational Maritime Coordinating Centre, Commander Yussif Benning joined in the hopes of the programme coordinator by adding that, the training would go a long way to fight maritime crimes.
A total number of 20 participants (drawn from counties such as Sierra Leone, Nigeria, the Gambia, Liberia and Ghana) will be at RMU for the six-weeks training which has been fully funded by EU.
Information source: Marketing Unit
Information date: 1/02/21021