A final year student of the Regional Maritime University, Mr. Akpakia Charles Luanga Ayimbila has been awarded for being among the best three (3) to emerge as winners in the 9th Continental Essay Competition organized by the Ghana Standards Authority for the year 2021/2022. The competition received entries from some tertiary institutions below the age thirty-five (35). The theme for this year's competition was: The Role of Standardization in Promoting African Pharmaceutical and Mental Devices to attain Self-reliance and Resilience in combating COVID-19 and Future Pandemics"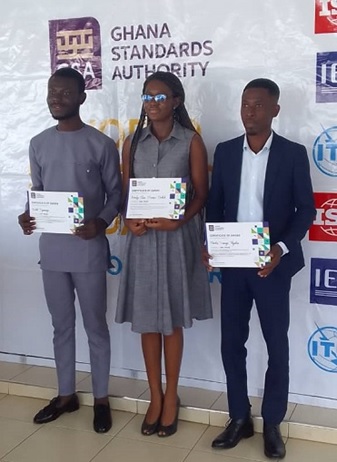 Mr. Ayimbila, a final year student pursuing B.Sc. Logistics Management competed among a host of over twenty (20) universities and colleges in the country and won third place. He also doubled up as the first runner up for Odomankoma Tertiary Essay Competition organized in 2021. Mr. Ayimbila received his award on the day of the World Standards Day Exhibition held at the Ghana Standard Authority on Friday,14th October, 2022.
In brief, the Worlds Standards Day is a day celebrated internationally each year on 14th October. This day celebrates the efforts of thousands of professionals who create standards within organizations such as; International Organization for Standardization (ISO), International Telecommunication Union (ITU) and International Electrotechnical Commission (IEC). As part of the activity line up in recognition of the celebration, students of the various tertiary institutions of the country competed for top place in an Esasy competition organized by the Ghana Standard Authority.
The Regional Maritime University graced the occasion with the presence of Mr. John Amponsah of the Marketing Unit.
Information Source: Marketing Unit
Information Date: 17th October, 2022