Rigworld Training Centre, Takoradi, is an off-shore training institution. Rigworld has taken over from Sibrima Maritime Training Company (SMTC), Malaysia, for the joint collaboration with the Regional Maritime University (RMU), for the running of off-shore safety programmes.
As part of procedures for a smooth take over, Management of RMU had a working meeting with Management of Rigworld on Thursday 17th March, 2022. Training is expected to start in earnest by May, 2022.
As part of its Corporate Social Responsibility, Management of Rigworld donated four (4) Air Conditioners to RMU. The C.E.O. of Rigworld, Dr. Kofi Abban presented the items on behalf of his Organization.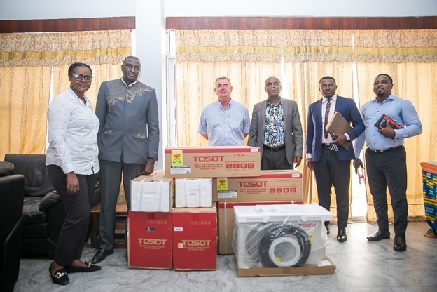 Receiving the items, the Ag. Vice Chancellor, Dr. Jethro W. Brooks Jr., expressed thanks and appreciation for this kind gesture and assured the Management of Rigworld of RMU Management's willingness to foster good working relations for the mutual benefit of the two parties.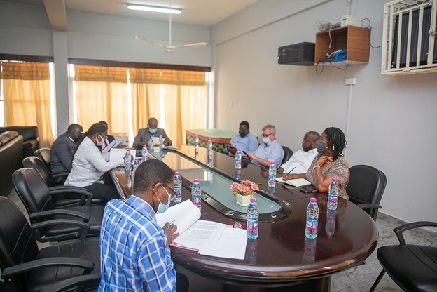 Present for this working meeting were: From RMU: Dr. Jethro W. Brooks Jr., Ag. Vice Chancellor; Dr. Baboucarr Njie, the University Registrar; Madam Vania Thomas, Director of Finance; Dr. Atenjia Njumo, Provost and Capt. W. Wricketts, Ag. Head of Department, Maritime Safety and Security. For Rigworld: Dr. Kofi Abban, Chief Executive Officer; Mr. Tom Griffin, Training Centre Manager, Takoradi and Accra Offices and Madam Cathy Telford, Training Co-ordinator, Accra Office.
Information Source: Marketing Unit, RMU.
Information Date: 18th March, 2022