On Tuesday, 14th March, 2023 a delegation from ADK Consortium presented a cheque of Five Hundred Ghana cedis (GH₵500.00) to the Management of the Regional Maritime University (RMU) to support the refurbishment of the accommodation for the cadets. This gesture was in fulfilment of their commitment made to the University during the 16th Congregation.
The cadet accommodation renovation project, which falls under the objectives of the University for ensuring comfort to its users will among other things, have most of the halls, redesigned to accommodate more students which will in effect will increase the cadet's enrollment per academic session.
In a brief remark, Madam Marklina Aba Dadzie, Human Resource Manager of ADK Consortium, expressed joy at the opportunity to support the good cause of the University. She hoped that their support will go a long way to accelerate the attainment of the objectives of the University thus promoting student's satisfaction and comfort.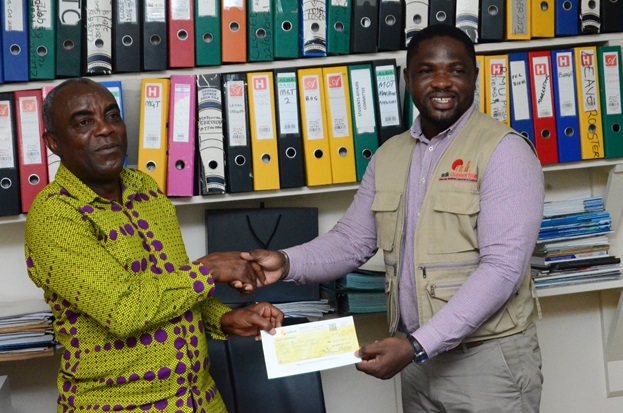 Dr. Jethro Brooks Jnr., Ag. Vice-Chancellor of the Regional Maritime University, in receiving the cheque on behalf of the University expressed appreciation to ADK Consortium for their support. He extended his gratitude to the Management of ADK Consortium for rendering their support and partnering with the University. He reiterated that, part of the project is to improve the functionality and comfort at the cadet accommodation and make it fit for housing future Captains and Ship Engineers.
In conclusion, he called on cooperate entities to follow suit by helping the University complete its projects for use by the students and staff.
The delegation from ADK Consortium comprised of: Noel Adu Gyamafi, Civil Engineer, Marklina Aba Dadzi, Human Resource Manager and Daniel Burgesson, Quality Surveyor.
Information date: 15th March, 2023
Information source: Marketing Unit.