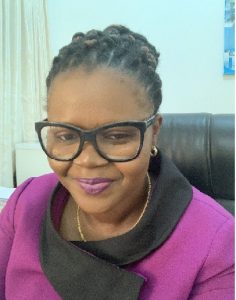 PROFILE:
Prior to her Appointment as Director of RMU, she served as Director of Accounts, Sierra Leone Maritime Administration (SLMA) and Accounts Officer, Public Financial Management Reform Unit, an Institutional Reform and Capacity Building Project (IRCBP) in Sierra Leone where she doubled as Project Accountant for the SLMA (ECOWAS Bank for Investment and Development Project on Jetty Construction and Rehabilitation). There she succeeded in bringing the Annual Audit up to date, spearheaded the implementation of a Locally Developed Payroll Software in line with the Administration's specification and developed an Account Procedure Manual for the Administration.  In 2016, Ms. Vania got Appointed as Director of Finance, Regional Maritime University tasked with the responsibility of establishing and operating effective Accounting Systems, Policies and Procedures for the University.
The Director of Finance
Qualification
Master of Public Sector Management, Ghana Institute of Management and Public Administration
Achievement:
Assuming the position as the Accounts Officer- Public Financial, Management Reform Unit, she was able to Assist in the Implementation of Integrated Financial Management Information System (IFMIS) used by the Accountant General Department and all Government Ministries in the Processing of Financial Transaction and Payments of Salaries and Trained Users.  By the same token she provided Functional Support to Ministries presently using the IFMIS including the Accountant General's Department, established Secretary's office, Ministry of Work, Ministry of Health and Sierra Leone Police. She is noted for the Imputation of Developed Chart of Account for Local Councils. As the Director of Finance of Sierra Leone Maritime Administration (SLMA), she succeeded in bringing the Annual Audit in the direction of stability. Her recommendation for the use of Payroll Software spearheaded the development of an Account Procedure Manual.
CONTACT;
+233 (0) 206227080, +233 (302) 716496
Finance Directorate, Regional Maritime University.